Remain Agile and Move Forward

Remain Agile and Move Forward
It's been 2 years since Nicky Tozer, Oracle NetSuite Senior Vice President of EMEA answered all our questions about NetSuite and the company's growth across the region. Nicky also talked about what to look out for and prioritise in your ERP selection process. A couple of months after this interview the pandemic hit the world and the world has entered a completely unprecedented era. And in this issue, Nicky is again with us to discuss how the pandemic has affected the ERP industry, what awaits us in the future of the ERP industry, and what to consider when choosing ERP software during and beyond the pandemic.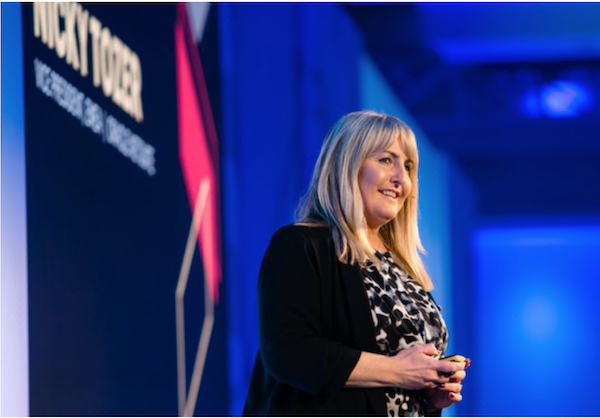 It has been two years since we have talked about NetSuite's growth in EMEA and evaluated the ERP industry together. Over these two years, the pandemic has left lasting scars in every industry. How has the crisis affected the ERP industry?
NetSuite has continued to grow. Globally, our Q1 revenues are up 28% and today over 27,000 organisations rely on NetSuite to help them run critical parts of their operations. That growth is a testament to what a good ERP system can help achieve.
The past 18 months have highlighted, how, more than ever, an organisation needs crystal clear visibility into its finances and cash flow, inventory, supply chain, and customers. Data is critical to helping customers make difficult decisions quickly to solve challenges and grasp the opportunities that businesses across all industries face.
When we spoke in 2019 I said that ERP needed to keep up with shifting market dynamics and continue to evolve into something everyone can take advantage of to give business leaders the visibility, control, and agility they need to grow their business. Today that's truer than ever – the ERP industry is well-placed to help organisations navigate the path back to consistent growth.
In our previous interview, you stated that we would have expected to see 'emerging technologies like AI, machine learning, blockchain, and predictive analytics become more embedded in ERP. Covid-19 has certainly sped up the adoption of digital technologies by several years. What awaits us in the future of the ERP industry?
The important thing is that new or 'emerging' technologies that are embedded in ERP help solve a real-world problem and do not add complexity for users. AI and machine learning are a great case in point – it is not about simply making these technologies available. It is about trying to make sure they work in harmony with how customers are already using ERP systems and having a defined objective in mind. For example, how can machine learning benefit users by automating manual tasks, or delivering new insights?
From a NetSuite perspective, we are always looking to deliver more useful features to customers. We've just launched SuiteBanking and named HSBC as our first SuiteBanking partner. The solution effectively merges ERP with fintech and helps customers automate key financial processes and gain full visibility into their cash flow by bringing together automated accounts payable and accounts receivable processes. In doing so, NetSuite is the first cloud ERP to integrate fintech into a unified suite. At the same time, we've announced NetSuite Analytics Warehouse to help customers spot patterns and surface insights from NetSuite and third-party data to help improve their decision-making capabilities.
We continue to focus on the technologies that have the potential to improve the lives of our customers and help them meet new opportunities.
What are the key challenges NetSuite customers are looking to solve right now?
Whether it's new business models, labour shortages, retention issues, new models for how and where we work, or new employee expectations – there's a lot for businesses to deal with and NetSuite is helping.
Businesses are looking for a foundation that allows them to be agile. Whether that's using real-time data to understand, plan and forecast for the next stage of growth or funding; determine which products or services to focus on, or to use their data for insights. Linked to that is that businesses need to keep a close eye on liquidity and cash flow. Having cash in reserve has never been so important as it helps businesses remain agile and take advantage of new opportunities. They also need a wide, consolidated view across every aspect of the business.
Businesses are also looking to deal with complexity and aiming to boost productivity. Many are fundamentally rethinking where their workforce will be situated in the future, and the rules and strategies to successfully work together in remote teams. They are having to guarantee access to tools and data, deal with skills shortages and make sure they are driving productivity regardless of employee location.
The pandemic has clearly accelerated cloud adoption and most software companies are now encouraging their customers to go all-in on the cloud. What are the benefits of Cloud ERP during the Covid-19 era? And what differentiates Oracle NetSuite from other cloud solutions?
'Cloud' comes more naturally to us than other ERP vendors. NetSuite was the first cloud software company and the first to provide a single integrated system to help organisations run their business in the cloud, and that hasn't changed.
Over the past 18 months and during the transition to remote working, finance and operations teams using on-premises solutions were likely less able to adapt as quickly and efficiently to changing business conditions as their cloud peers. NetSuite customers were unlikely to have that challenge. On a purely practical level, it's harder to work virtually without virtual (cloud) access to the information you need to run your business.
Fast-growing international businesses turn to NetSuite. More than 150 customers on NetSuite have gone public just this year and 65 percent of tech-based IPOs this year are running on NetSuite. It's a testament to the capabilities NetSuite provides, and how we are constantly working on improving the features for our customers.
What should businesses consider when choosing ERP software during and beyond the pandemic?
The key consideration is what issues need to be addressed. What are the outcomes you want to achieve, and what are you trying to solve? Decide what you want to achieve and where you want to go as a business, and make sure you have room to be flexible and adaptable within the system you use to support those goals.
Customers often approach us with a particular problem or goal in mind. We've just announced the expansion of our Advanced Customer Support service to provide prescriptive playbooks to help meet a particular goal and help enable customers to accelerate their return on investment. The playbooks are based on our experience and the data and insights from thousands of NetSuite implementations. They intend to help customers address operational challenges such as revenue recognition, project profitability, and supply chain management and can also help support key growth milestones, such as a geographic expansion, preparation for an IPO, and merger/acquisition activity.
My main guidance to customers is to always consider outcomes when selecting an ERP system.
In 2019, we spoke about the role of women in technology. What progress have we seen since then?
The role of women in technology, and elevating more women into senior leadership roles in this industry, is very close to my heart. Last week I took part in a brilliant session organised by Oracle Women's Leadership (OWL) on the theme of 'I have your back', discussing how we can empower and develop current and future generations of female leaders in our business.
Industry-wide, I think we need to need to acknowledge the need for conscious change when it comes to both women in leadership and wider diversity and inclusion issues. We need to constantly challenge ourselves to lay the groundwork for people to prosper socially, economically, culturally and politically.
The post Remain Agile and Move Forward appeared first on ERP News.